11/15/2021
Ohio Build Announces Second Round of Water Infrastructure Grants
Earlier this week, Governor Mike DeWine and First Lady Fran DeWine visited South Charleston and Wilmington, respectively, where they announced the second round of Ohio BUILDS water infrastructure grants. Last week,grants totaling more than $93 million were announced for infrastructure projects impacting 60 counties. Tuesday's announcement included projects in the 28 Ohio counties that did not receive funding in the first round.
"It's astonishing to me that there are communities in Ohio today where it's difficult to get clean water. For our people to thrive and for our communities to grow, clean water and reliable infrastructure are an absolute must," said Governor DeWine. "There is a tremendous need for water infrastructure upgrades all over our state, and through Ohio BUILDS, we're funding projects that will be life-changing in some communities."
A third round of grant recipients will be announced in the future.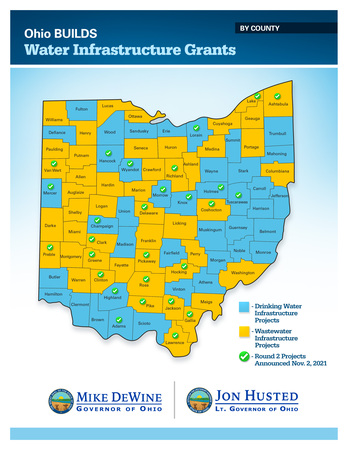 December 1 - Save the Date for the Ohio Virtual Day of Action - American Heart Association
Click here for more information: Save the Date: Join Us December 1st for Ohio Virtual Day of Action! (yourethecure.org)
OHIO OFFICE OF BUDGET AND MANAGEMENT (OBM) TO HOLD SECOND OHIO GRANTS SUMMIT
On Tuesday, December 7, The Ohio Office of Budget and Management is virtually hosting the second Ohio Grants Summit. The first summit was held in September of 2020.
The Ohio Grants Summit is a unique event offering the opportunity to connect local government leaders and financial managers to resources and education to support their management of federal grant funds. This year, the Summit sessions include the following topics:
Ohio Broadband; Emerging Issues in Federal Funds; Allowable Uses of Fiscal Recovery Funds on Water and Wastewater Infrastructure; Preparing for a Single Audit and Accounting for COVID Funds; Federal Procurement; and Compliance and Legal Considerations with Fiscal Recovery Funds
This free event is specifically for local governments and non-profits that apply for and receive grant funding from the State of Ohio.
Don't miss out on this important and informative event! To learn more and to register, click HERE.
More Info