03/12/2018
60+ Healthcare Leaders Tune Into Health Assessment Webinar
More than 60 hospital community health and public health leaders across Ohio tuned into The Power of Collaboration, a health assessment webinar, co-hosted by Ohio Public Health Partnership and The Center for Health Affairs on Friday, March 2, 2018. This webinar offered Ohioans the opportunity to learn from New York State's expansive experience coordinating public health and hospital health assessments and planning.
Presentations by Sylvia Pirani, MPH, MSUP, director, Office of Public Health Practice, New York State Department of Health and Sue Ellen Wagner, MHA, vice president, community health, Healthcare Association of New York State, showcased New York's experience. Key highlights from this health assessment webinar include:
New York was recently named the 10th healthiest state in the U.S. according to America's Health Rankings. Experts in the state credit, in part, New York's coordinated approach to health assessments and planning with the improvements witnessed in the Empire State. (In comparison, Ohio currently ranks 39th in America's Health Rankings.)
New York State's Prevention Agenda 2013-2018 provides a blueprint for state and local action to improve the health of New Yorkers in five priority areas and reduce health disparities.
State-level progress toward meeting prevention agenda indicators is tracked by the New York State Prevention Agenda dashboard.
Collaborative community health planning guidance and data aims to support local hospital and health department efforts.
Following an in-person group viewing of this collaborative health assessment webinar at The Center for Health Affairs, community health leaders from three major healthcare systems in Northeast Ohio, along with six Northeast Ohio health commissioners, discussed how lessons learned in New York could be applied to Ohio's approach to coordinating health assessments. Recent state-level population health planning developments in Ohio aim to spur greater collaboration and a more coordinated approach to health assessment and planning in Ohio.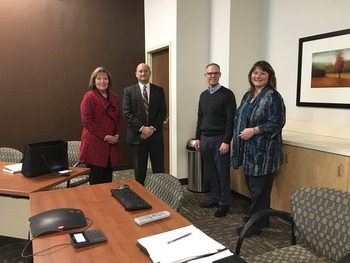 Patt Sweeney (Mahoning County), Dave Covell (Lorain County), Terry Allan (Cuyahoga County),
and Krista Wasowski (Medina County) participate in webinar.