12/10/2021
Ohio's Funding Work Instrumental in National Report and Call To Action
Ohio's Funding Work Instrumental in National Report and Call To Action
This week, the Bipartisan Policy Center, released a new report, Public Health Forward: Modernizing the U.S. Public Health System, a five-year roadmap for public health leaders and elected officials to build a more equitable, robust, and sustainable public health system across the United States. The recommendations were shaped by a bipartisan task force of current and former governors, mayors, elected representatives, nonprofits, public health, and health care executives. The report offers recommendations related to funding, data and information technology, workforce, public health laws and governance, partnerships, and community engagement.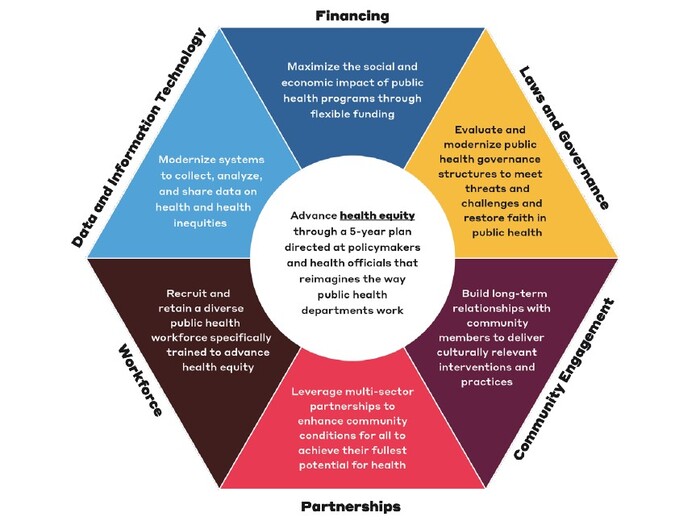 Ohio's years of work in costing public health services, in accordance with the Foundational Public Health Services model, was cited early on in the presentation as a recommendation for assessing investment in public health, including the analysis that quantifies the gap between the current investment and the investment needed for effective public health services that will improve the health of our communities.
"Public Health Forward: Modernizing the U.S. Public Health System defines a vision
for health in the 21st century and provides a practical, prioritized, bipartisan set of actions for policymakers and public health officials to guide strategic investments and decision-making to achieve this vision. These actions are informed by evidence, build on previous consensus frameworks and objectives, and represent work by national thought leaders that have the support of public health practitioners across the country. The nation's safety, security, and economic prosperity depend on a strong public health system. We respectfully urge state and local policymakers to act now to fully realize the potential of this unique moment and secure the future of the public's health." (Bipartisan Policy Center, "Public Health Forward: Modernizing the U.S. Public Health System, December 2021).
The Association of Ohio Health Commissioners looks forward to working with the Ohio General Assembly to discuss this report and its implications for Ohio! Please contact AOHC at 614-781-9556 or aohc_1@aohc.net.